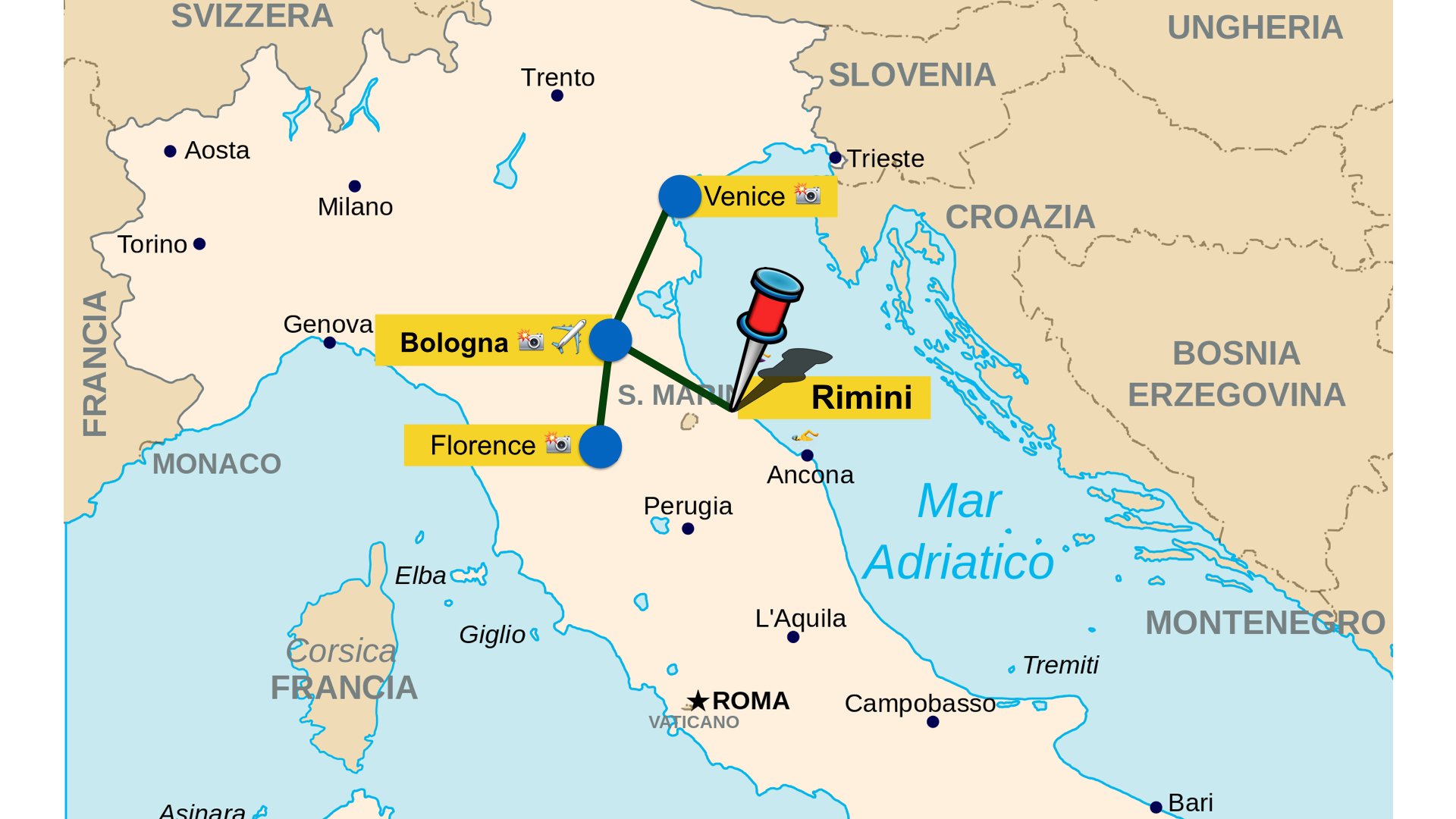 By plane
The nearest airport is Bologna Guglielmo Marconi Airport (IATA: BLQ) and is served by Ryanair, WizzAir, EasyJet, Lufthansa, Air France, Aeroflot, Klm, Turkish Aerlines and several other airlines.

The Lufthansa Group (Lufthansa, Swiss, Eurowings, Austrian and Brussels Airlines) is our preferred airline partner for EuroPython 2017. You can book discounted flights (~5-10%) to Bologna and Florence via
https://www.lufthansa.com/de/en/Meetings-and-Events-Delegates
scroll to the bottom and use code ITZJQRN.
How to get from the Bologna Airport to Rimini (and vice versa)?
From Bologna Airport to Rimini train station there is a direct bus. You can buy and check the timetables directly on the website.
We have a special agreement with the company and with the code EUROPYTHON2017 you get a 10% discount on the on-line price (18 EUR instead of 20 EUR).
Other nearby airports
The nearest airport is Bologna, but you could probably consider Milan (with 3 airports), Verona, Ancona, Venice and also Rome depending from your trip.
By train
You can check TrenItalia (for regular and highspeed trains) and Italo (but only highspeed trains).
The highspeed trains network works quite well, Bologna is the closest hub for Rimini.
Best way in general is to reach Bologna with an highspeed train and then take a regular train to Rimini.
By bus
For the bus connection you can check this page, flixbus has also a stop in Rimini.
By car-sharing
Car sharing is a cheap way to move around Italy.
By car
Rimini is close to the A14 - Autostrada Adriatica, a 743 km motorway that goes through the east side of Italy, from Bologna till Taranto.
Rimini is served by two exits: Rimini Nord and Rimini Sud. With the A14, from Rimini it is easy to reach the A4 to Venice and the A22 to the Brenner pass. Florence, Rome and Naples are equally accessible with the A1 motorway.
If you have additional questions, please check the official web site of Rimini.