Deadlines
These are the deadlines we have for various items related to sponsorships:
For details, please refer to the relevant sections below.
Please note that the above are hard deadlines. We cannot accept submissions after the listed dates and will not issue refunds in case the deadlines are not met.
Sponsor tickets
Registration process
You will get a direct email with a voucher code for your company. Please hand the code over to your attendees and advise them
to register at europython.eu and then
to purchase a free or discounted sponsor ticket by using the voucher code until June, 9th.
You will need to get your sponsor tickets on the registration desk.
The price for conference session passes at the early-bird rate is EUR 365.00 excl. VAT, EUR 445.30 incl. 22% VAT. You can buy tickets at this discounted rate using the voucher codes we provide as part of the sponsor package.
Exhibition
Booths and tables
A booth is a stand with dividing partitions: from 9 to 50 sqm (depending on the sponsorship package).
Booth design
Booths will be included in the sponsor package prices (for packages with booth). We are working with a booth builder to give us nice looking and concise high quality booths for the conference.
The booths will include a big logo of your company. Please send us a vector version of your logo, if you haven't done already.
Table sizes
We will publish the table sizes as soon as we get the details from the booth builder.
Stands floor plan
We will publish the floor plan as soon as we solve questions with the venue and the booth builders.
Exhibition schedule
The exhibition lasts from Monday to Friday 9am to 6pm. Please ensure that prominent booths will be staffed during the opening hours. Normal booths and tables need to be staffed at least from Tuesday to Thursday during the official breaks.
Booth setup and teardown times
Time for set up the booths will be Sunday, July 9th, 2pm-8pm or Monday, July 10th, 8am-10am.
The tear down of the booths will be possible on Friday, Jul 14th, 4pm-8pm.
Booth designs
The following are a few mockups the booth builder has sent us to give you an idea of what the booths will look like. Please note that these designs are not final and still subject to changes.
The carpet for all booths will be dark blue, not the color shown on these renderings.
Silver booth: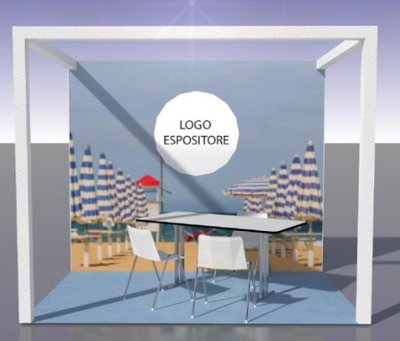 Gold booth: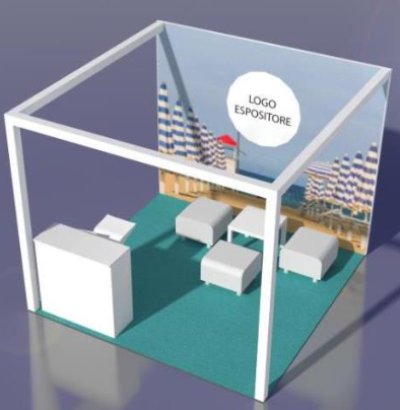 Platinum booth: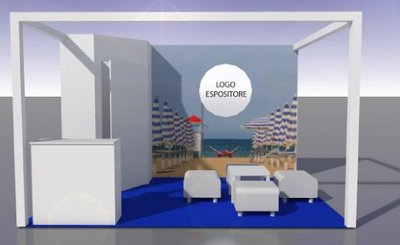 Diamond booth: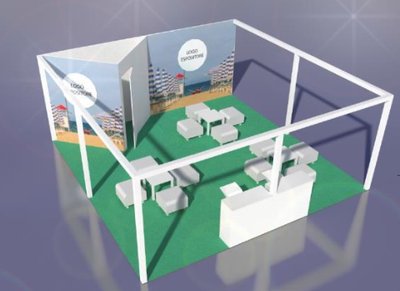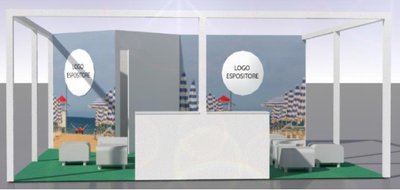 Keystone booth: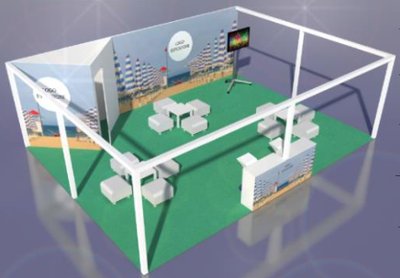 Customization and additions to stands
A booth construction and basic furniture (table, chair(s), power sockets, small wall mounted spotlights, and possibly a locker) are provided by us and included in your sponsorship package if you have booked a package with booth.
Deadline for all customization orders is June 30th. This is a hard deadline, since the booth builder has to make arrangements to implement these changes requests.
Reception desk logo
The booths with counter desk can be customized with an additional logo on the counter desk. If you'd like to book this option, please let us know. The prices for this are as follows:
Gold: EUR 100.00 + 22% VAT (size: 100x98cm)
Platinum: EUR 100.00 + 22% VAT (size: 100x98cm)
Diamond: EUR 200.00 + 22% VAT  (size: 200x98cm) or EUR 100.00 + 22% VAT (size: 100x98cm)
Keystone: included
Deadline for order submission is June 30th.
Changing the backdrop image
The mockups show a default backdrop image, but it is also to provide a custom one. For platinum and diamond booths, two backdrop images are used.
In case you'd like to provide a custom design, please pass the following to your designer.
| | | |
| --- | --- | --- |
| BOOTH | NET DIMENSION | GROSS DIMENSION |
| Silver | 300x250 cm | 320x270cm |
| Gold | 300x250 cm | 320x270cm |
| Platinum | 275x250 cm | 295x270 cm |
| Diamond | 300x250 cm + 200x250cm (closet wall) | 320x270 cm |
| Keystone | 500x250 cm + 200x250 cm (closet wall) | 520x270 cm |
Image sizes: Image files must be produced following gross dimensions, and they must consider an abundance of 10 cm all around the net dimension.
File format: Free Hand, Adobe Illustrator, Adobe InDesign, Adobe PhotoShop or PDF, TIF and EPS in high definition;
Resolution of the images: real size in 100 dpi or 1/3 of the final size of the print, in 300 dpi. The images must be always in four-colours process
File names: each file must be named after the sponsor
Logo position: The white circle with the logo shown in the mockups is the default way of presenting the sponsor logo in the default backdrop image. If you want to customize the backdrop, you are free to place your logos in any way you'd like in your backdrop image.
Please send links to the files to sponsoring@europython.eu (the files will be too large to send directly via email).
Deadline for order submission is June 30th.
Extra furtniture
If you want to rent extra booth furniture, please have a look at this catalog the venue sent us:
Please let us know if you want to book any extra and we'll get them ordered from the venue.
Deadline for order submission is June 30th.
Television sets
Please send us an email if you are interested in renting a TV for your stand.
The venue sent us the following catalog with rental options, including monitors:
Please let us know which monitors you'd like and we'll get them ordered from the venue.
The 50" monitor can also be put in upright position, in case needed.
Deadline for order submission is June 30th.
Catering
If you would like to run a small party or get-together at your booth, we can get a quote from the venue caterer for you to have this arranged. Please contact us for details.
Please note that the venue has has exclusive rights to any catering done in the venue. It is not possible to order food, drinks or catering from an outside caterer and have this served in the venue.
You can, of course, arrange separate events and parties outside the venue, e.g. in one of the bars on the beach.
Deadline for order submission is June 30th.
Shipping
Shipping will be handled by the parcel service company PalaSerVip for EuroPython 2017.
Please see their info & order PDF for all the details regarding sending parcels, storage during the conference and return shipments:

PalaSerVip - EuroPython 2017 - Service Order Form.pdf (675.0 KB)
If you want to send parcels to the conference, you will have to order their services using the order form. Payment of the service is possible via bank transfer, credit card or cash on-site or by sending the CC data on the order form by email.
The deadline for ordering parcel services is June 30th 2017.
The PalaSerVip mail address to ship parcels to is (the parcel company is located in the conference venue):
PALASERVIP c/o MAIL BOXES ETC.
Via Della Fiera,23/C (c/o Palacongressi)
47923 Rimini (RN)
For additional information, questions or requests, please contact Mr. Filippo Bortoletto, phone: +39-541-787203 or +39-541-718842 or send an email to: info@palaservip.it
Leads
Lead collection
If you want to collect leads at your booth for recruiting purposes or to follow up on product/project inquiries, you can make use of the QR codes we will have printed on all attendee badges.
The QR codes will provide vCard 3.0 records with the name, affiliation and email addresses of the attendees.
You can scan them using many QR reader apps available for mobile phones. The reader apps will typically allow you to store the vCard records in an address book which you can then export to e.g. Outlook or CRM software for use in follow-up emails.
You can also use the leads for price draws, games, party invites or other attendee interaction ideas.
Recruiting
Mailing list
For your recruiting ad email send the following information to sponsors@europython.eu:
title
description (up to 100 words)
an url link e.g. to the recruiting ad on your own website.
Deadline for sending in recruiting ad email texts is July 7. We will send these during the event to the attendees who have opted in to receiving job ads from sponsors.
On-site job board
For your recruiting ad on the on-site job-board please prepare a DIN A4 sheet. You can bring it along and pin it on the board yourself.
Job board web page
All sponsors in sponsorship levels silver and above are eligible for posting a job ad on our Job-board page.
If you are interested in submitting an ad, please send the job ad to sponsors@europython.eu. We will then place it on the website after review.
We will post as many as three jobs per sponsor, but only if the jobs are sent as single ad text combing the ads. Please include a short company introduction, the job title, a short job description and a contact address.
Deadline for website job board ads submissions is July 7.
Recruiting session
The recruiting session will be in Arengo room on Tuesday, 11 July 2017 at 12:10. 
The recruiting session will give each sponsor a chance to give a 5 minute pitch, presenting their company and their job offers.
The room can host up to 282 people, it is situated on the first floor and the map is available in the EuroPython 2017 Conference App.
Please register your interest by sending an e-mail with subject "Recruiting session: <company name="">" to sponsors@europython.eu before Monday 10th July, 10 CEST with the following information:
Name of your company
Name of the person giving the pitch for your company
Will you be using slides?
If you are willing to use slides (1-2 slides), please send us the slides in the same e-mail, within the same deadline. 
Please remember to specify the location of your Booth so that attendees can then talk to you, get information about your business and your job offers, exchange contacts.
Advertisement
Booklet ad page
Our sponsor packages include ad space in the conference booklet. The size of the ad depends on the sponsorship level:
Keystone, Diamond: eligible for a two page ad
Platinum, Gold: eligible for a one full page ad
Silver, Bronze, Patron: eligible for a one half page ad
If you want to get an impressions of a previous year's EuroPython conference booklet, please see the EuroPython 2016 booklet (PDF).
Please send the ad as TIFF file to sponsoring@europython.eu, based on the following specification:
Full-page size: 19cm wide x 21cm high
Half-page size: 19cm wide x 10.5 cm high
Print resolution: 300dpi
Bleed: 3mm all around the ad
Color profile: don't use any specific color profile
Delivery deadline: May 22nd (extended to May 24th)
File format: .tiff
Sponsor blog post
For Diamond and Keystone Level sponsors, we will run blog posts highlighting the sponsor. The communications WG will work together with the sponsor to write this blog post and the post will then be published on our regular EuroPython Blog, which also goes to our Twitter and Facebook account, as well as a few mailing lists.
For the blog post we will a 2-3 paragraph text from you and ideally a picture we can use on the blog post (if you don't have a picture, we can use your logo as well).
The text should be written to highlight your activities with Python and address a technically oriented audience.
Examples:
Promote your sponsored talk / training
Highlight a new product you are presenting at the conference
Announce a lounge event you are organizing
Please sent the initial draft of the text and the picture to sponsoring@europython.eu no later than June 23rd. We will then forward it to our communications WG for editing.
Sponsor feedback questions
Diamond and Keystone Level sponsors may request adding a short list of questions to our feedback form which we will send around to attendees near the end of the conference.
This is great way to get an idea of how well the sponsorship worked out.
The feedback forms are managed by the communications WG. Please submit between 1-3 questions to sponsoring@europython.eu no later than June 23rd. We will then forward it to the WG for integration into the form. Questions should be multiple choice, free text or rating questions (1 to 5)
The form will be left open for around 1-2 months after the conference. We will then publish the results on our website and send them to you as well.
Sponsor retweets
All sponsor levels from Bronce up can get a single retweet of one of their tweets to the followers of our @europython Twitter account. Please note that we normally do not retweet tweets from companies, so signing up as EuroPython sponsor is a good way to get a retweet.
In order to get your tweet retweeted, please write to the sponsor helpdesk at sponsors@europython.eu, mentioning the URL of the tweet to retweet. We will then schedule it for a retweet.
Sponsor tweets
Sponsor levels Platinum, Diamond and Keystone additionally get to suggest a single tweet, which we'll then send to the followers of our @europython Twitter account.
In order to get the tweet schedule, please write to the sponsor helpdesk at sponsors@europython.eu, mentioning the tweet text. We will then review it and schedule it after approval.
Bag inserts
The bag insert is included for Bronze or higher sponsors. This is to be delivered by the sponsor and will be packed by the EuroPython organizers.
Silver and Gold sponsors can send flyers (up to size DIN A4) or gadgets.
Platinum, Diamond and Keystone sponsors can send flyers (up to size DIN A4), brochures or gadget.
Quantity
Please send at minimum 1400 bag inserts.
Bag inserts have to be delivered to the parcel service company until Friday (July 7th) before 18:00 CEST to be available for bag stuffing on Sunday.
IMPORTANT: Please use "bag insert" as indicator on all parcels, so we know that these parcels are meant to be opened by us for bag stuffing and notify us regarding the inserts you have sent by sending email to sponsors@europython.eu so that we know what to expect.